COMPLETE Outdoor Entertaining Areas for the Sunshine Coast, Noosa & Gympie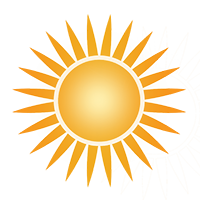 Completely Finished Without The Stress
At Coastal Patios, we know how difficult it has become to find reliable tradesmen and manage multiple quotes for your project. That's why we do it all and offer The Complete Package letting you sit back and enjoy all the finishings. Coastal Patios don't just build you a patio. We design the whole project, we engage the certifier for all your required approvals, we build the project, we supply and install the outdoor shutters, aluminium screening slats, fixed louvers slats, we connect your stormwater, we paint the downpipes, we supply, install and CONNECT the lighting (Including the popular Wi-Fi lights) and the most modern outdoor patio fans, we take all the rubbish away including the soil, we leave our customers with the perfectly inspired outdoor entertaining area.
Get inspired by clicking on the button below and viewing our extensive gallery of previous projects.
Coastal Patios takes pride in offering comprehensive electrical fit-outs as part of The Complete Package. With our expertise in outdoor living spaces, we understand the importance of a well-planned and functional electrical system to enhance the overall experience.
As part of our service, customers receive electronic custom plans tailored to their specific needs and requirements. These plans ensure that all electrical components, such as down lights, fans, and mood lighting, are strategically placed to maximise convenience and usability in the outdoor area. Our team of skilled electricians ensures a seamless installation, providing a safe and reliable electrical fit-out that meets the highest standards.
Coastal Patios Finishing Touches: Aluminium Shutters And Screens
Streamline your construction process and simplify the finishing touches of your build by opting for the high-quality aluminium shutters and screens provided by Coastal Patios.
Our aluminium shutters and aluminium slat screens provide comprehensive coverage, shielding you from the sun, wind, insects, and anything else that Queensland's climate might throw at you. With our finishes you can enjoy both privacy and protection throughout the year.
Simplify the process, ensure a cohesive finish, and trust Coastal Patios to provide the perfect shutters or screens for your project.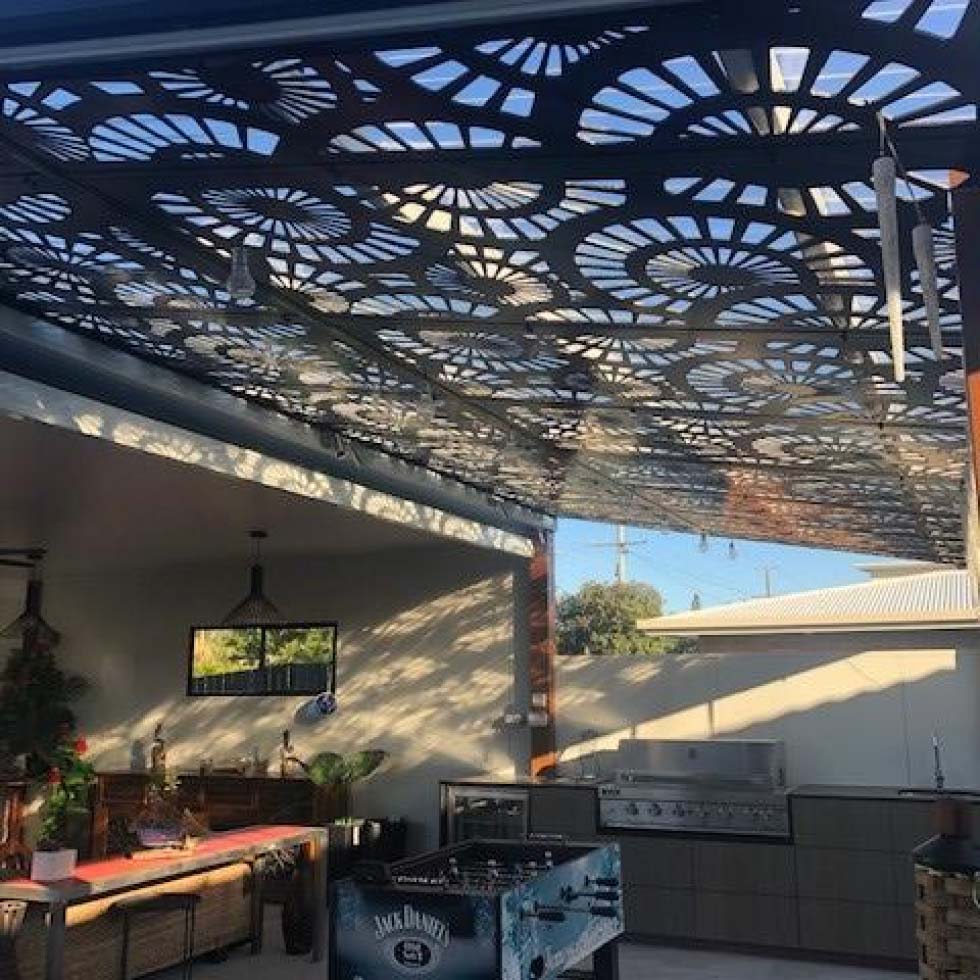 Setting The Mood With Lighting & Fans
With Coastal Patios Tri-Colour LED downlights, Multi-Coloured Wi-Fi downlights and our latest Strip Mood lighting setting the mood is simple. Rated IC4 for installation within the fire-retardant, insulated core of the panels and IP 44 water-proofing rated for the outdoors, our lights are the perfect solution for your outdoor area.
Our LED downlights provide a 120-degree spread of up to 950 lumens, making it the perfect choice when lighting large outdoor areas. Coastal Patios also offers stylish outdoor patio fans (IP66 water proofing rated) in 2 sizes and 3 beautiful modern colours which allows you to effortlessly and stylishly transform your space into an all year round outdoor entertaining area.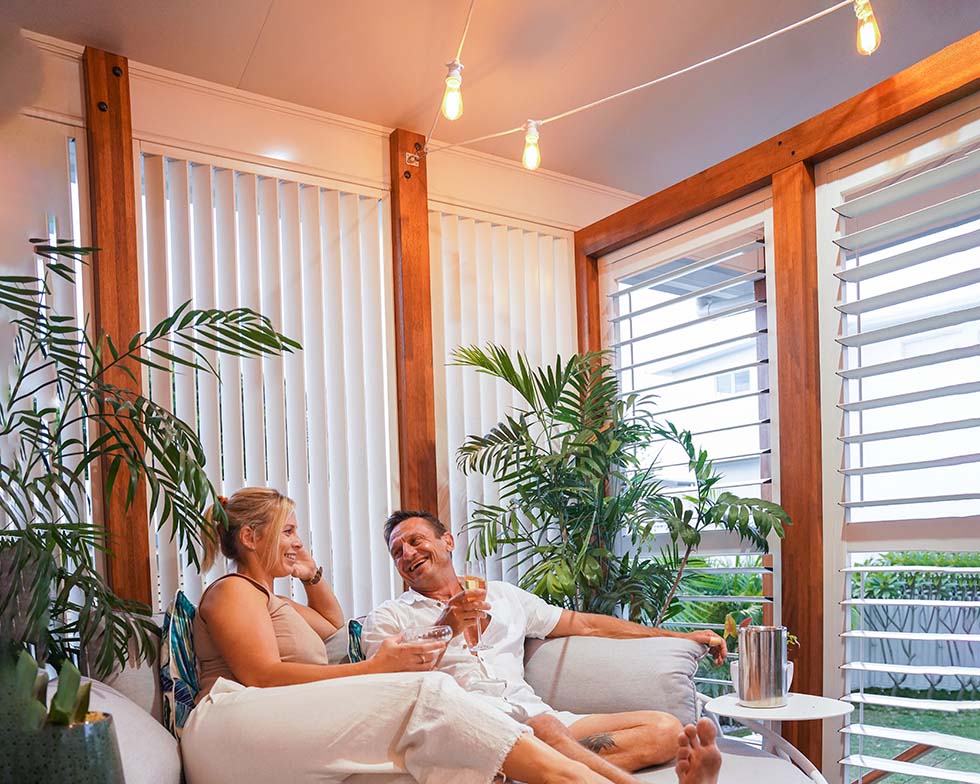 Coastal Patios goes the extra mile by offering a comprehensive site clean-up service after the completion of the build, setting us apart from our competitors. We understand the importance of a hassle-free experience for our customers, which is why we take care of all aspects of site clean-up.
Our dedicated team ensures that the build site is left in pristine condition by removing soil and rubbish, as well as conducting a thorough clean of the entire area. This attention to detail means that once the build is complete, you can simply sit back and relax, knowing that your patio will be ready to use immediately without having to deal with any mess.
Build Your New Favourite Spot
Visit the largest showroom on the Sunshine Coast for inspiration or call an expert builder today.

Bones You Can Trust
We only use Australian owned and manufactured frames, ensuring the quality and durability of your patio or carport. Frames can be customised to meet your needs. Simple But Reliable Single Skin
We use V-Line Single Skin Sheeting to give you a wide choice of roofing styles. Single Skin Sheeting is the simplest and most economical roofing system available.

Insulated Sheeting For Summer And Winter
All our patios and carport roofs can be constructed using state-of-the-art insulated sheeting, to keep your outdoor area cool in summer and warm in winter. Post Materials For Any Project
Coastal Patios offer a wide variety of posts including RHS steel, aluminium, hardwood timber and low-maintenance wood-grain aluminium.
To learn more about our designs, or to obtain a free quote on any of our services, call Coastal Patios today on 07 5437 9525.