Transform your backyard into a dream oasis with expert outdoor patio builders on the Sunshine Coast
Coastal Patios is a leading outdoor patio builder on the Sunshine Coast, with a reputation for delivering exceptional patios designed to match their clients' unique needs and preferences. With a dedicated team of professionals and a strong focus on quality and customer satisfaction, we have continuously contributed to the creation of stunning outdoor living spaces across the region. Our expertise extends across various types of patios, including simple flat roof patios, traditional gabled construction roof patios, flyover roof patios, free standing patios and the box gutter.
We are delighted to present you with a compilation of frequently asked questions and answers, featuring top outdoor patio builders on the Sunshine Coast. This blog post has been created to address your queries and concerns, and to assist you in making informed decisions when selecting outdoor patio construction services in our beautiful region.
Question: What are the key factors to consider when planning an outdoor patio?
Expert response: The crucial factors to consider when designing an outdoor patio include your desired functionality, available space, budget, and the style and architecture of your home. These factors will influence the type of patio and materials to use, as well as the overall design and layout.
Question: How do you determine the appropriate size and layout for an outdoor patio?
Expert response: Consider your intended use, such as dining, entertaining, or relaxation, and the number of people you plan to accommodate. Incorporate suitable clearances for furniture, walking areas and any additional features like BBQs, outdoor kitchens, or planters. Always ensure the patio complements your home and blends seamlessly with the surrounding landscape.
Question: What are some trending design and material options for outdoor patios?
Expert response: Innovative design features like stronger support beams, fewer posts, and lock-joining systems allow for sleeker and more open patio spaces.
Question: How can homeowners maintain and care for their outdoor patios to ensure long-lasting durability and beauty?
Expert response: Regular cleaning, inspecting for any signs of damage, and addressing maintenance needs promptly ensures your patio remains in top condition. Also, treat any outdoor furniture and fabrics as necessary to prevent wear and weathering from exposure to the elements.
Question: What are some common mistakes to avoid when constructing an outdoor patio?
Expert response: Avoid skimping on the quality of materials and hiring inexperienced builders that may jeopardise the structure's longevity and safety. Additionally, ensure the patio design complies with local building codes and regulations to avoid potential compliance issues.
Patio Showcase
With numerous outstanding patio projects under our belt, the expertise of Coastal Patios is evident in the creativity, craftsmanship, and attention to details showcased in our work. Some of our unique and successful projects demonstrate our ability to deliver exquisite outdoor spaces tailored to our clients' needs.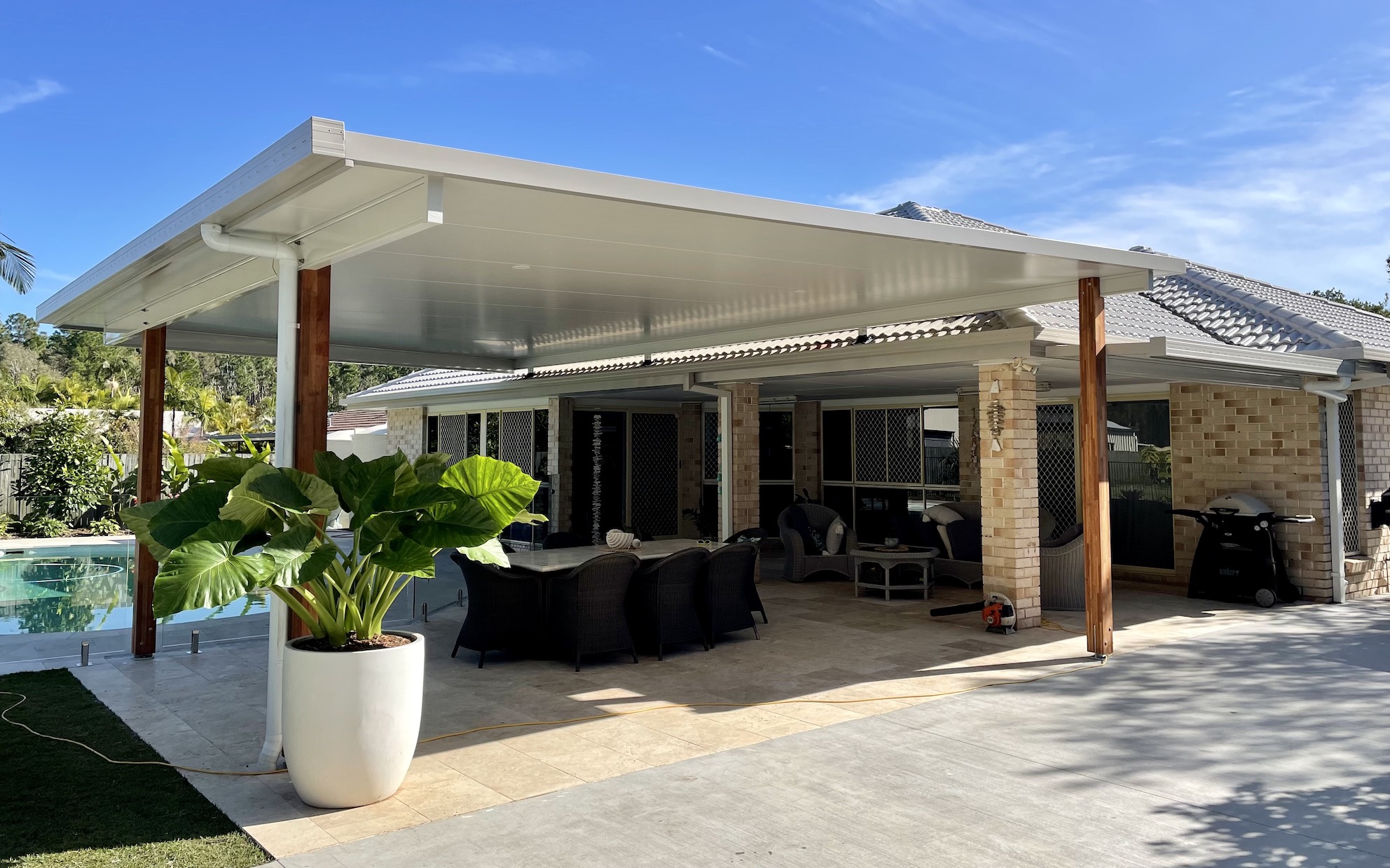 Tips for Choosing the Right Outdoor Patio Builders on the Sunshine Coast, Noosa & Gympie
Entrusting your outdoor patio project to a reputable and experienced builder like Coastal Patios is essential for quality workmanship and peace of mind. Coastal Patios' dedication to quality, innovation, and customer satisfaction makes us the top choice for homeowners seeking the best outdoor patio builders on the Sunshine Coast. Take the first step towards creating your dream outdoor space by reaching out to the experts at Coastal Patios for a consultation or to learn more about our services.
Transform your backyard into the perfect outdoor retreat with Coastal Patios. Inquire through our website or call us on (07) 5437 9525 to schedule a consultation or to explore their extensive range of patio solutions tailored to suit your unique needs and preferences.